UNIQUE EXPERIENCES
Sea & Sun | Nearby Coves
The ideal location of Pela Mare, in Agia Pelagia, offers opportunities to get to know several small coves and crystal clear beaches, one more beautiful than the other. Behind Souda Bay, near Evresi cave, where, according to tradition, the holy icon of Agia Pelagia was found, hides the small bay of Filakes, a tiny beach with fine sand and green waters. In less than a kilometer on foot, we see the beaches of Lygaria, a closed bay protected from the winds, with coarse sand & excellent waters, and Agia Pelagia. These are two highly organized beaches, with a supermarket where visitors can easily find the essentials as well as taverns & bars, for entertainment every hour of the day.
A little further, we meet Mades at 3 km from the hotel, a small, quiet pebble beach surrounded by rocks. Another famous sandy beach, about 13 km from Pela Mare, is the Blue Flag awarded Ammoudara, a long sandy beach of 7 km with fine brown sand and crystal clear waters. It is a highly organized beach, with lifeguards, umbrellas, sunbeds, showers, bars, and many opportunities for water sports.
To the north, 3.5 km from Agia Pelagia, we meet the small, quiet, but quite organized with showers, sunbeds, umbrellas & bars, Kladissos beach, with fine gravel & small pebbles. Next is the famous pebble beach Psaromoura [4 km from Agia Pelagia] with umbrellas, sunbeds, and a canteen and Mononaftis [5.5 km from Agia Pelagia], a small, organized beach with sand, turquoise waters, rocks and greenery the sea, some restaurants and bars for lunch or snack.
Following a route to Rethymno, the large, organized sandy beach of Fodele [9.1 km from Agia Pelagia] awaits you, which is perfectly combined with the visit to the village where the painter Dominikos Theotokopoulos (El Greco) was born and to the house where he is believed to have grown up. Today it is the El Greco Museum, where you can admire copies of the great representative of the Cretan School of Hagiography.
For additional information about the experience Nearby Coves you can contact our Concierge team through the form below.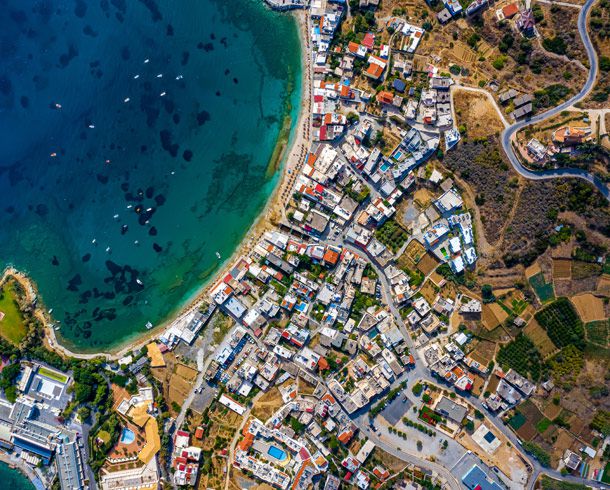 AGIA PELAGIA
0.9 km | 15min walk or 3min drive
Sandy
Organized
Activity List: Water sports, restaurants, bars, diving center, boat rental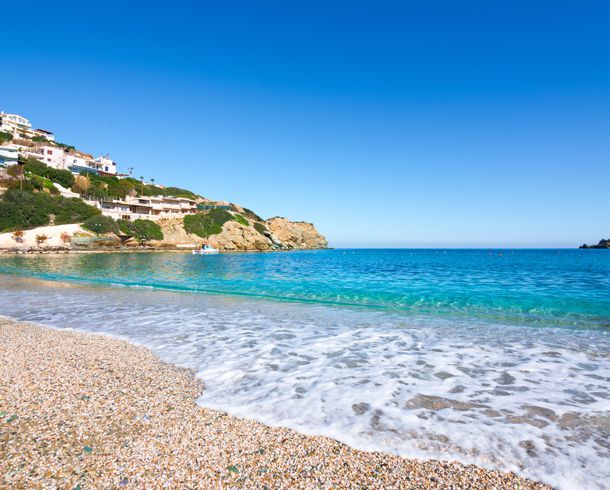 LYGARIA
0.9 km | 15min walk or 3min drive
Sandy
Organized
Activity List: Relaxation, restaurants, diving center, cafes and bars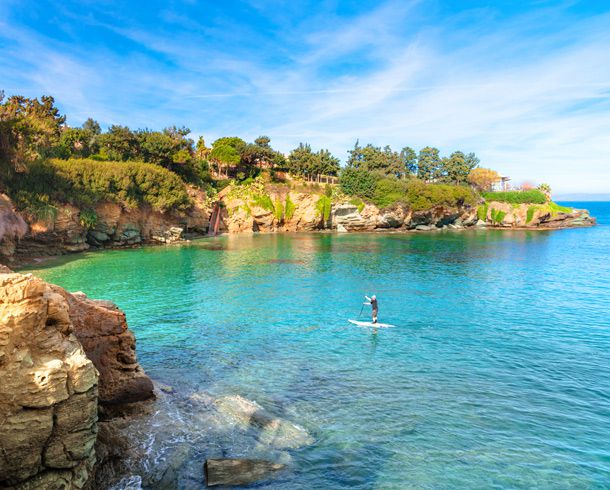 FYLAKES
0,9 km | 15min walk or 3min drive
Sandy
Unorganized
Activity List: Not provided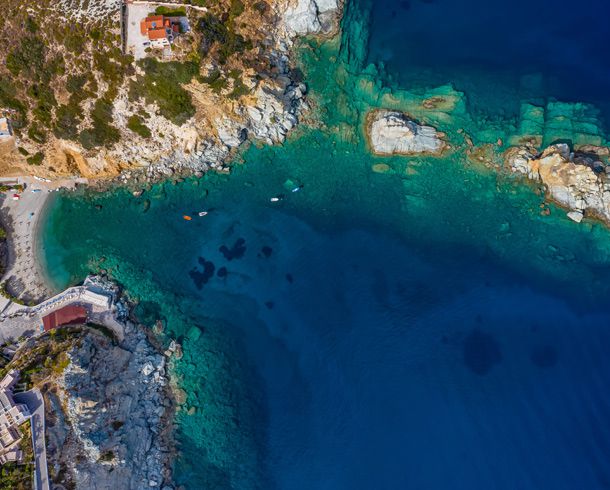 MADES
3 km | 9 min drive
Sandy
Organized
Activity List: Not provided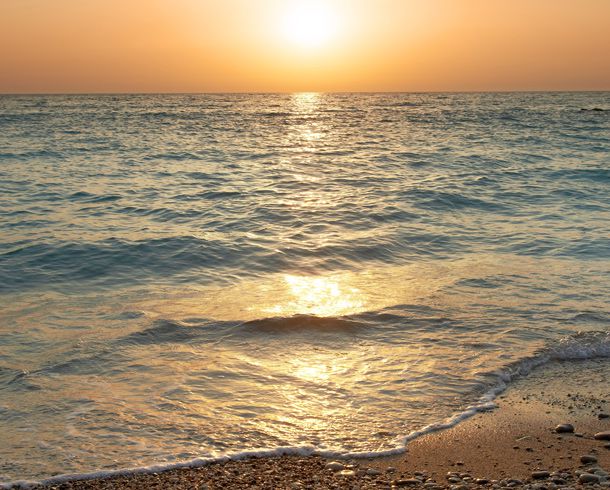 KLADISSOS
3,5 km | 9 min drive
Sandy
Organized
Activity List: Provided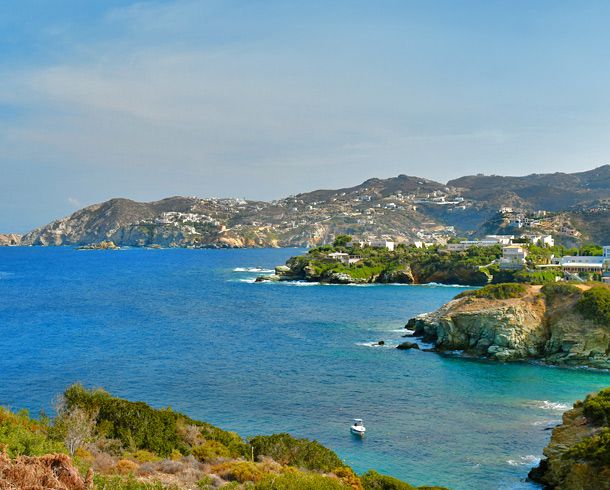 PSAROMOURA
4 km | 10 min drive
Pebble Stone
Organized
Activity List: Diving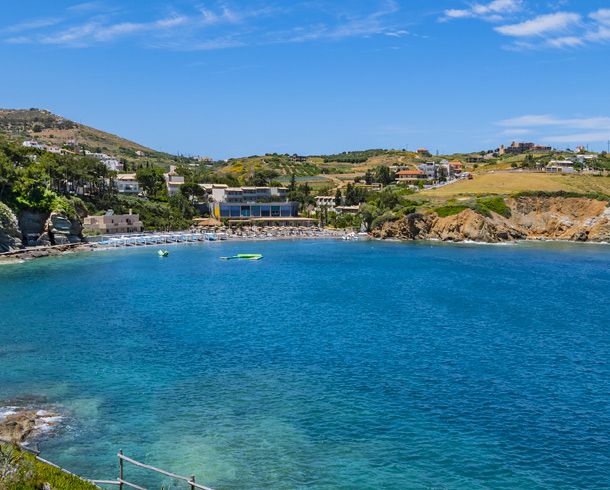 MONONAFTIS
5,5 km | 12 min drive
Sandy
Organized
Activity List: Water Sports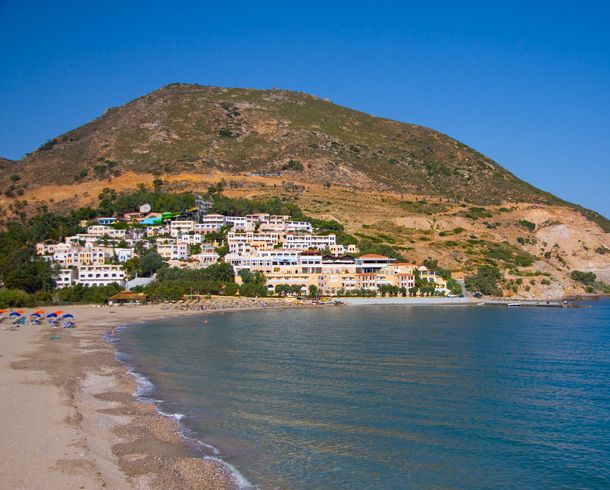 FODELE
9 km | 12 min drive
Sandy
Organized
Activity List: Snorkelling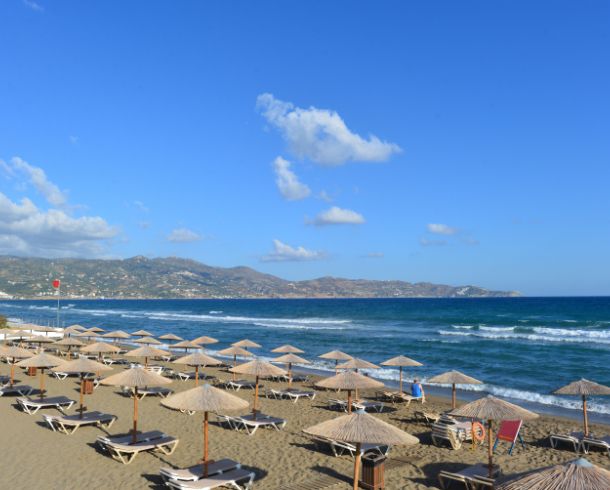 AMMOUDARA
13 km | 17 min drive
Sandy
Organized
Activity List: Fishing/Rent a boat/Sailing trips